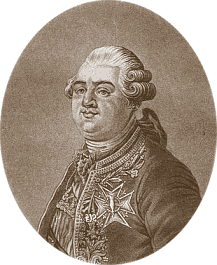 Menage a trois - Fersen on the top, Louis on the bottom and Marie Antoinette centre of attraction...
King Louis the XVI was not one of the most fascinating men in history. In fact he was rather boring, as the entries below from a section of his diary show.
Sunday, 13—­Left Versailles. Supper and slept at Compignee, at the house of M. de Saint-Florentin. Monday, 14—­Interview with Mme. la Dauphine.
Tuesday, 15—­Supped at La Muette. Slept at Versailles.
Wednesday, 16—­My marriage. Apartment in the gallery. Royal banquet in the Salle d'Opera.
Thursday, 17—­Opera of "Perseus."
Friday, 18—­Stag-hunt. Met at La Belle Image. Took one.
Saturday, 19—­Dress-ball in the Salle d'Opera. Fireworks.
Thursday, 31—­I had an indigestion.
Not only was Louis incredibly boring but he also had little or no interest in sex. It is not surprising therefore, that his wife, Queen Marie Antoinette soon saught to be fulfilled elsewhere. It is said that after four years of marriage the only intimacy between when Louis had given her a peck on the cheek. Hot stuff indeed...
So, when the young Swedish Count Axel von Fersen came to the French court, full of adoration for Marie Antoinette, it was not long before the two were lovers. The affair was intense. Wherever and whenever they could meet they did. Fersen was not yet 20 years old, his passion was ardent and he could scarcely hide it. They were crazy about each other...
When the Queen of France gave birth to a princess, tongues started wagging as the king's brother, the Comte de Provence, who hated her, made a vicious comment in church while the infant was about to be baptized.
The grand almoner, who presided, asked;
"What name shall be given to this child?"

The Comte de Provence answered in a sneering tone:
"Oh, we don't begin with that. The first thing to find out is who the father and the mother are!"
In fact, a Swedish envoy had sent the following report to the King of Sweden:
"I must confide to your majesty that the young Count Fersen has been so well received by the queen that various persons have taken it amiss. I own that I am sure that she has a liking for him. I have seen proofs of it too certain to be doubted. During the last few days the queen has not taken her eyes off him, and as she gazed they were full of tears. I beg your majesty to keep their secret to yourself."
Fersen was horrified that his goddess should be subjected to such gossip and in order to protect her reputation he decided to leave and join the French army going to America to fight Lafayette. He went to great pains to protect his love's reputation, even spreading rumours that he was about to marry a young Swedish woman.
Marie Antoinette was devastated and unconsolable. Fersen was away for three years. Inevitably he was still to be by her side. In 1791 as things were looking tough for the Royal Family, he helped to smuggle the King, Queen and their children to Varennes. However this plan failed and the Royal Family were imprisoned. Fersen did all he could to help the love of his life but it was all in vain and in the end she was sent to the guillotine. Fersen lived on and returned to Sweden where he became a succesful statesman. His death was not pleasant; he was trampled and beaten to death by an angry crowd after untrue rumours were spread that he was implicated in the poisoning of the Crown Prince. It was June 1810 and he was 55 years old. Marie Antoinette was the only woman he ever loved, until the end.